Honey cake recipe. So homely and so delicious!
The honey cake recipe involves the use of ordinary foods, which are quite often found in most refrigerators. Cakes are baked quickly and after cooling, you can start spreading the cream. By the way, if you do not want to make custard, you can always use condensed milk and butter, which, when combined, perfectly saturate the layer and give an exquisite taste and aroma to the finished dessert.
Honey cake recipe. Classic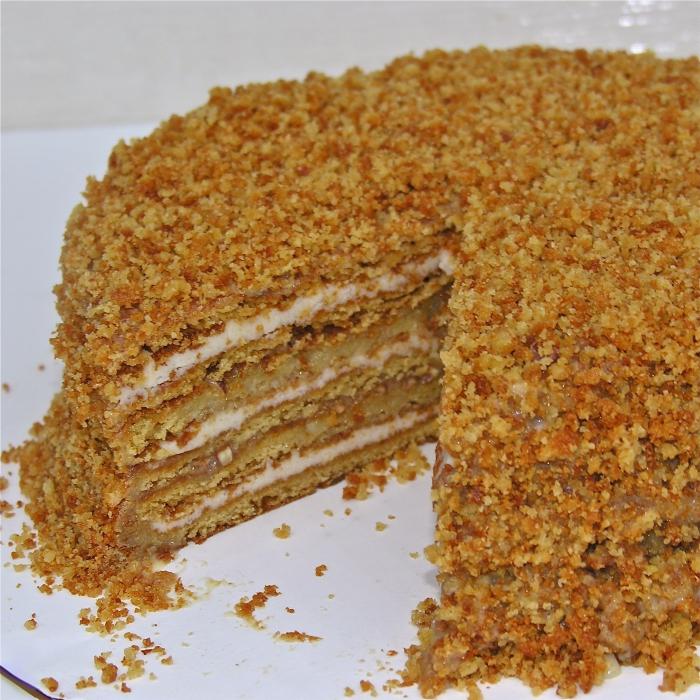 In a water bath, melt five tablespoons of honey, half a cup of sugar and butter in the amount of 70-80 grams. Beat three eggs and add to the mix, but outside the bath. Then again return the container to the fire and stir constantly. Five minutes later pour a little soda and stir until the liquid in the volume increases. After the mixture is suitable, enter a glass of flour, then two more. The finished dough will be viscous, it should be kneaded on the table until soft, divided into parts and roll out the cake layers. From the specified number of products should get nine pieces.Each circle should be carefully trimmed so that they are the same size, put on butter greased parchment, and bake for 15 minutes until golden brown. Use the remaining trim for crumbs. They also need to be sent to the oven. Cooking honey cake is not complicated at all. Once everything is ready, you can proceed to the cream.
Cooking impregnation
In a convenient container, beat several eggs, half a cup of sugar, vanillin and two tablespoons of flour until smooth. Add two glasses of milk to it and put on the fire. Zakipev, the mixture will begin to thicken, it must be constantly stirred to the consistency of fat sour cream. After that, remove from heat and place in a container with cold water for cooling. In the cooled cream enter the butter and mix thoroughly (can be whipped). Prepare the mixture to spread each cake and lay them on each other, slightly pressing down. Sprinkle crumb over the top layer after smoothing the cream. Leave to soak for 4 hours.
Honey cake with condensed milk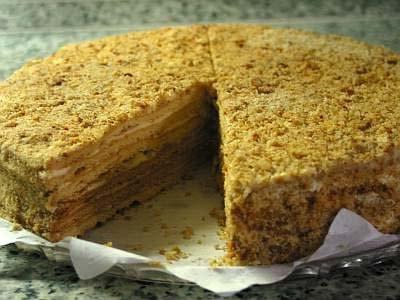 Here is another cake recipe, but with a different cream. So, using a water bath, you need to melt honey, sugar, a little soda and margarine (or butter), wait for the white foam and remove the container from the fire.Add two eggs and flour, knead soft dough. Divide it into equal parts and roll out each one, cut off the layers so that they are of the same shape. Put on a greased baking sheet and bake in the oven for 10 minutes, periodically glancing, because a thin dough can burn. This honey cake recipe suggests using a can of boiled condensed milk and 200 grams of butter for the cream. Both ingredients need to be combined and stirred. Spread each layer of cake and put cakes on each other.
Glaze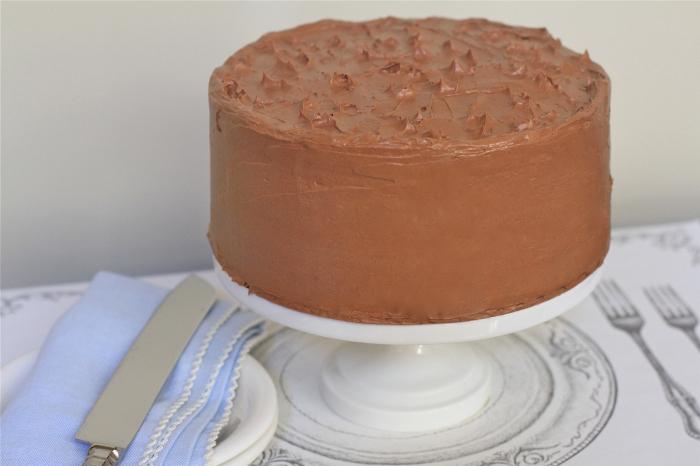 The cake can be poured over the chocolate mixture. For its preparation you need to mix half a glass of water, a couple of spoons of cocoa. Boil the mixture for 15 minutes. Add 100 grams of butter to it, stir and pour the cake (already anointed with cream). Leave for 3-4 hours to soak.
Conclusion
The honey cake recipe may be slightly different: sour cream is often added to the dough, and nuts or dried fruits are often added to the cream for a layer of cake layers. As the glaze, you can use various compounds, including fruit. You can also offer a variant with jelly. In general, if you dream up and spend a little time, you can treat your friends to an original and very tasty cake.
Related news
Honey cake recipe. So homely and so delicious image, picture, imagery