26.05.2018
kak-eto-sdelano
Restoration motorcycle IZH Jupiter-5
The case began in 2013, then I was still a student of the 1st course of the technical college and started thinking about the fact that I needed something more abruptly than a moped. The motorcycle was bought for accumulated scholarships and actually looked like this:
Immediately after the purchase, it was possible to start it after replacing the spark plugs, setting up the carburetor / ignition, actually temporarily ended up running, and I rode as it is.
After dismantling this miracle, I realized that I would not have enough experience to collect everything back, it would not be enough for me, and I would have to go all the way, gradually enlightening in this complex (at that time) technique.
I started by washing all the parts from 20 year old mud and preparing it for painting:
He mated the old paint, putty on all sorts of small chips and dents and proceeded to priming / painting:
With a spray gun, I painted the first time, but it turned out without smudges and quite tolerably. He continued to build gradually buying new parts: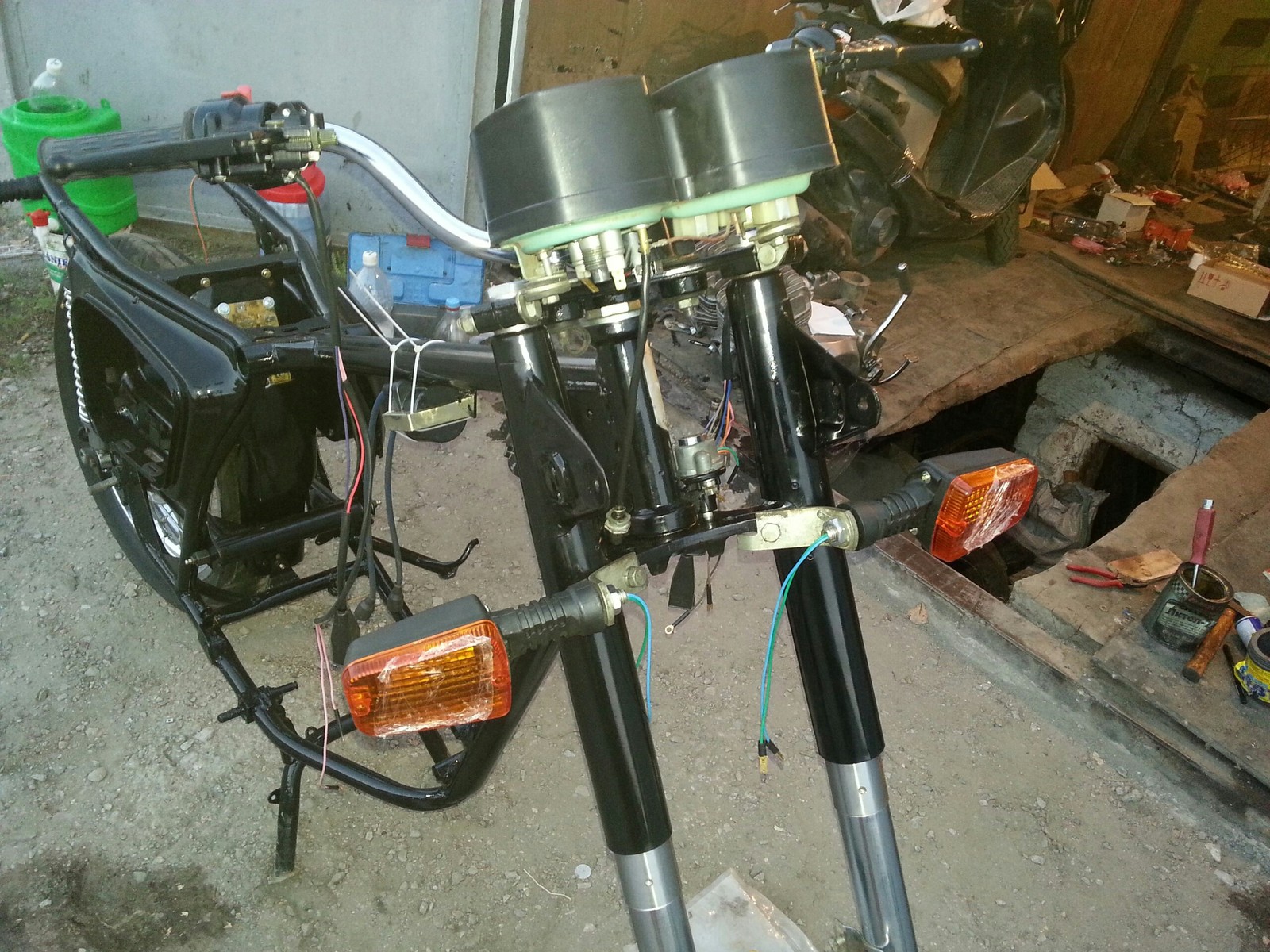 In the process of exploitation, it turned out that the new-made spare parts full d ** but poor quality, and everything gradually changed to a well-restored old Soviet sn:
Rubber Swallow SeaHawk 120 / 80-18 (Indonesia)
Having read horror about the cam ignition on the Soviet technology, I ordered myself BSZ + FOPH (although the FEPH itself did not meet my expectations, and now it rides off in the glove compartment)
For completions I got something like this:
BSZ, polishing and fitting all channels, all wiring is assembled from normal wires through relyushki, engine bolts are replaced with an internal hexagon, crankshaft covers on the thread retainer, fag bearings, the store said that German. There was no tuning, and I don't like it, but I plan to install a charging relay with a Zhiguli over the winter.
It took me about a year to complete the restoration, it turned out that the ideal was not, of course, originally conceived, but it seemed normal.
At the moment, the mileage after the repair is about 12000km, although the right cylinder is already ringing. To say that I was very keen on him, nothing to say, I just used the rhythm: "to roll and when it's boring to fix something."
As of October 2017, the motorcycle looks like this:
A source
Click on the button to subscribe to "How it is done"!
If you have a production or service about which you want to tell our readers, write Aslan () and we will make the best report that not only readers of the community, but also the site will see
How is it done
Subscribe also to our groups in
Facebook, VKontakte,classmates, youtube and instagram
Where will be placed the most interesting from the community, plus a video of how it is made, arranged and running.
Click on the icon and subscribe!
- http://kak_eto_sdelano.livejournal.com/
- https://www.facebook.com/kaketosdelano/
- https://www.youtube.com/kaketosdelano
- https://vk.com/kaketosdelano
- https://ok.ru/kaketosdelano
- https://twitter.com/kaketosdelano
- https://www.instagram.com/kaketosdelano/
Official site - http://ikaketosdelano.ru/
My blog is http://aslan.livejournal.com
Instagram - https://www.instagram.com/aslanfoto/
Facebook - https://www.facebook.com/aslanfoto/
Vkontakte - https://vk.com/aslanfoto
Taken:
unique templates and modules for dle
Otherwise it will be as with Ford Escort below.
Restoration of the motorcycle JAWA 350 1963
For some of our fellow citizens, this is not just a motorcycle, but an entire era, nostalgia and pleasant memories! It was bought this: Sandblasting, preparing parts for
Restoration "Zaporozhets"
It's about my car - Zaporozhets ZAZ-966. Year 1970, a rare, modern language, "transitional model". From the moment of purchase by me
Plymouth Barracuda Restoration
Today brought our swallow.
Related news
Restoration motorcycle IZH Jupiter-5 image, picture, imagery